News
triOS College Officially Opens Newly Built Mississauga Campus in Partnership with Mohawk College
October 3rd, 2022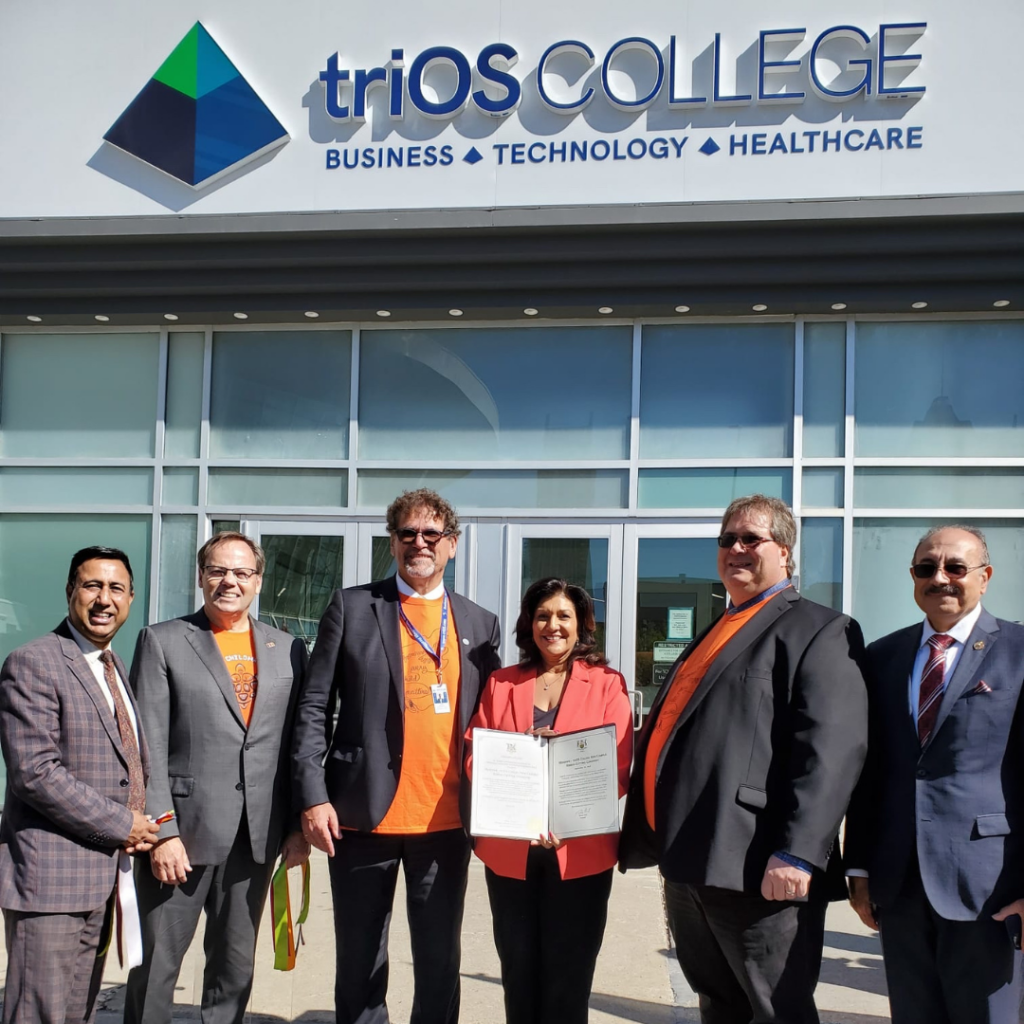 MISSISSAUGA – On Friday, September 30th, triOS College, in partnership with Mohawk College, officially opened a new, state-of-the-art campus in the heart of Mississauga. Located on the south west side of Square One, the campus is easily accessible by car or public transit, and students, faculty, and staff can take advantage of the many amenities available at Square One and the surrounding area. The campus will be an educational hub for international students, who will receive practical, hands-on instruction from triOS College in the areas of Business, Technology, and Supply Chain Management.
"The opening of this new campus in partnership with Mohawk College represents a great opportunity for international students studying in the heart of Mississauga", said CEO Frank Gerencser. "Students will be able to leverage the high-quality, hands-on education that triOS is known for and graduate job-ready for careers in Business, Technology, and Supply Chain Management."
"The Mohawk College Mississauga Campus allows us to more quickly expand our programs and serve more students at a time when the community, and the province, has an acute need for a trained workforce," said Mohawk College President and CEO Ron J. McKerlie. "We are looking forward to growing together with triOS College so that more and more people can attain a well-earned and well-respected Mohawk College credential."
Attendees at the ribbon cutting ceremony included triOS CEO Frank Gerencser, Mohawk President Ron McKerlie, numerous members of the triOS and Mohawk teams, along with special guests Nina Tangri – MPP Mississauga-Streetsville, Sheref Sabawy – MPP Mississauga-Erin Mills, Deepak Anand – MPP Mississauga-Malton, Bonnie Crombie – Mississauga Mayor, Trevor McPherson – CEO Mississauga Board of Trade, and Bradley Jones – Head of Retail Oxford Properties.
triOS College has been a proud member of the Mississauga community for over 30 years, and is proud to continue its history of continuing to graduate job-ready students into rewarding and in-demand careers alongside Mohawk College.
About triOS
The mission of triOS College Business Technology Healthcare Inc. is to help students become job-ready graduates. triOS College is a private career college with 8 campuses across Ontario focused on providing practical hands-on training that students need to be successful in their chosen careers.
triOS College offers a wide variety of programs that are highly relevant in today's job market within Business, Technology, Healthcare, Law, Supply Chain, and Gaming. The program curriculum is extremely comprehensive and is uniquely developed with input from industry leaders to provide the highest quality education.
Canadian-owned and operated, triOS College is proud to be recognized as one of Canada's Best Managed Companies for twelve years in a row. triOS has been awarded the Platinum designation for redefining post-secondary education by listening to students and employer needs to deliver effective results. Since its inception in 1992, triOS College has prepared over 40,000 job-ready graduates for rewarding careers.
About Mohawk College
Mohawk College educates and serves more than 29,500 full-time, part-time, apprenticeship and international students at three main campuses in Hamilton, Ontario and learning hubs across Hamilton through City School by Mohawk, at the College's Centre for Aviation Technology at the Hamilton International Airport, and at a campus in Mississauga. Mohawk is among the top five colleges for applied research in Canada. It has been named one of Canada's greenest employers nine years in a row, holds a GOLD STARS rating from AASHE for sustainability achievements and is home to the country's largest and first institutional building to receive dual certification for Zero Carbon Building Framework design and performance, The Joyce Centre for Partnership & Innovation. More than 135,000 people have graduated from Mohawk College since it was founded in 1968.